Light housekeeping for homebound seniors.
Homemaker Services
The Homemaker Program can provide a little light housekeeping to keep the environment safe and sanitary, allowing seniors age 60 and older to live independently in their homes.
Services provided...
Dusting and Straightening
Floor Care
   Sweeping, mopping, and vacuuming
Kitchen Care
   Washing dishes
   Cleaning outside of appliances, counters, and cabinets
   Cleaning oven and refrigerator
   Removal of spoiled foods
Bathroom Care
Cleaning tub/shower
 Cleaning toilet bowl/commode
Cleaning sink
Clothing Care
   Washing and drying clothes
   Folding and putting away clothes
   Changing linens and making bed
Our cleaning areas...
We clean only the main living areas that are used on a daily basis. We do not clean spare bedrooms, unused basements, or attics.
Cleaning supplies
Participants must provide all of their own cleaning supplies for the Homemaker to provide service. For example, laundry soap, dish soap, mop, broom, vacuum.
Our Service Areas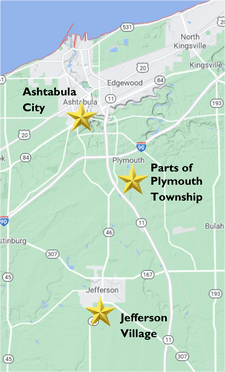 Individuals interest in learning more about the Homemaker Services and to check eligibility, call...
440-998-3244