Breaking barriers so all children can come to school ready-to-learn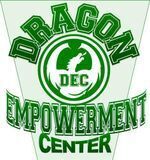 The Dragon Empowerment Center provides support services to students, families, and the community so that all can be successful in school and in life.
The Dragon Empowerment Center, also referred to as the "DEC", is a Community Learning Center at the Ashtabula Area City Schools. A collaboration between the schools, our agency, and many community partners, the DEC is open to all individuals and families within the Ashtabula Area City School District. The DEC offers many services to help address the issues that impact a child's ability to reach their full potential.
Some of the supports and services offered include:
Emergency Food

Clothing Bank

Hygiene Products

School Supplies

Dental Services

Vision Assistance Program

Tutoring

Activities and events

and, connections and referral to area resources
Location:
Huron Primary Building- Room B116
Lakeside Elementary Campus
2300 Wade Avenue
Ashtabula, OH 44004
Contact:
440-855-0081
Follow us on Facebook